AI-209 Illuminated Keyboard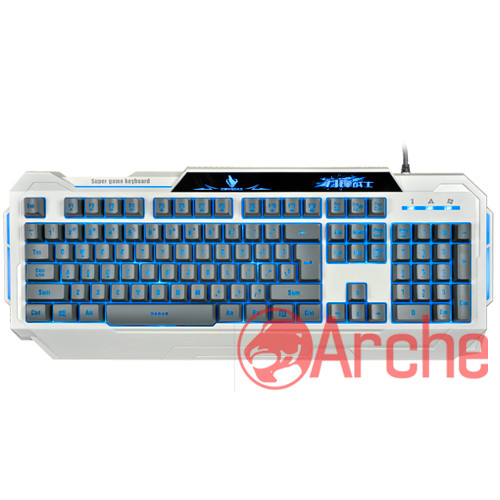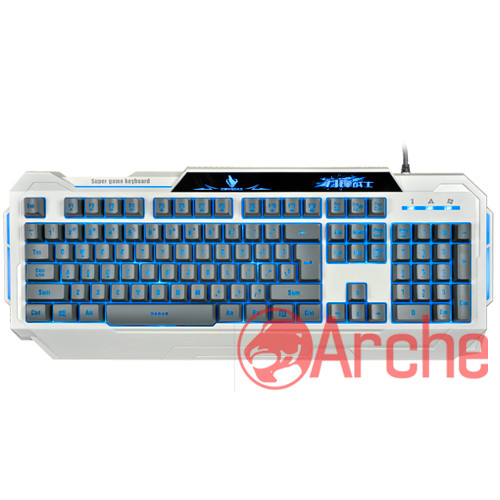 ARCHE Model AI-209 illuminated gaming keyboard is a product designed for prefessional Gaming Players. Optional for the kinds of colorful backlight ( Red, Blue. Green......) . This keyboard has 19 conflicting keys for Gaming. Thanks to the tough membranes AI-209 guarantees a long lifetime of keys. It will delight players witch have to always play intense.
Details
Features:
Professional Letter illuminated (Green, Blue, Red, White.....) Keyboard.

Unique design of beehive pattern for Fushional officers.

104 full-size keys includes 19 conflicting keys for Gaming.

Ergonomic key arrangement with full-size keys and numeric keypad in a compact layout.

Low-key switches reduce typing noise, improve response and offer low-profile keystrokes

Precise mechanical key infrastructure for blazing fast actuations, in-game responsiveness and professional gaming control

Ergonomic design with a palm rest to minimize wrist fatigue

Reliable & durable: Silicone rubber dome for keys; Rated for over 10 million keystrokes

Laser carved keycaps & UV coated, with superior abrasion resistance

Braided fiber cable for extra durability, foldable for more flexibility

Supporting Interface: PS/2 or USB, giving faster input interface & compatible with every computer system and laptops
Specifications:
USB 2.0 backwards compatible

Letter illuminated indicator

Compatible with any USB-enabled PC or Mac system

USB A-type to mini B-type retractable cable; 1.50 m (56in.)

Dimension: 460 (L)× 165 (W)×25(H) MM

Switch travel distance: 3.5±0.3 MM

Peak force: 50±7gf

Life cycle: 10,000,000 times

Power consumption: 2 Watts Max

Power supply: 5V±5%

Color: White. Black

Backlight: Red, Blue or Green......